Left/Right Brain Interior Design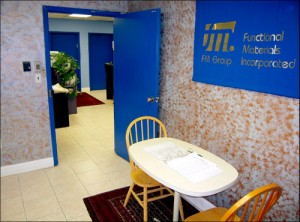 Studies have shown that colors can affect people's mood and productivity.  In western culture, red is associated with left brain activity, rational and analytical.  Blue is associated with intuitive creative right brain thinking.  Working for a company that manufactures specialty colors for the design community, this left brain/right brain conundrum needed to be dealt with.
The last time we dealt with this problem was in 1995 when FM moved into our Sloatsburg, NY facility.  At that time, purple was one of the two projected color stylings (Yes Virginia , color fashion does have cycles and is somewhat predictable).  Purple (red + blue), despite its regal history, had not been a popular color in many years.  We gambled on purple and boldly spray painted all of our file cabinets in that royal color. It was not well received by either our employees or visitors, who indicated it did not match our staid corporate image.  By 1998, we were vindicated.  Purple was a smash hit.  It stayed strong into the present, becoming the new neutral alongside beige and grey.
Now we had legacy purple furniture and were moving into a new facility with a tight budget during difficult economic conditions.  Our new offices had been painted blue by the previous owners and most rooms were pretty clean (I guess other people have access to projected stylings too, we are entering a blue cycle).  So we opted to leave well enough alone.  Blue stays, except in rooms where colors are matched, where we put in FM's Color with Function, a scrub resistant neutral grey.
Oh, what about our left brain types; including yours truly, where's the red?  We opted for a copper red metallic to be used as a marbling highlight, along with silver grey, over the blue in our lobby.  The brain tends to integrate the red and blue fuzzy marble pattern into a version of purple.  Changing the red to a metallic copper keeps the emphasis on the red pattern.  Not enough red?  How about a blue conference room with a red Persian carpet with lots of intricate patterns to impress our scientists with the importance of detail work.
If you are traveling near Congers, NY, please come and see the merger of left and right brains at work.
Josef Feldman
Februrary 12, 2009